ESPY RUN CONSTRUCTED WETLANDS
_________________________
2011  •  Hanover Township, Luzerne County, PA

PROJECT OVERVIEW
Constructed wetlands are a common technique for improving polluted waters, including those contaminated by AMD. Typically, affected waters are diverted from a stream into a large, shallow pond.  This arrangement treats the contamination by:  1.) increasing the water's movement, which raises oxygen levels, thereby boosting iron fallout; 2.) containing the water, which allows more time for iron settling; and 3.) filtering the water through hydrophytic vegetation, like grasses and cattails.
The Espy Run wetlands – located in the Loomis Park area of Hanover Township – is based on this system, treating a natural AMD seep discharging from the underground mine pools.  Because of the system's initial success, it was expanded in 2001 and 2011.
July – August 2013 | Based on recommendations from PA DEP, the Western PA Coalition for Abandoned Mine Reclamation authorizes $4,570 for repairs to the Espy Run system through the Quick Response Emergency Repair Funding program.
April 2012 | EC, in partnership with the Pennsylvania Environmental Council, carry out a tree planting of pin oaks at the Espy Run wetlands site.
August – September 2011 | During routine water quality testing, a washout area is discovered near pond inlet.  Washout is repaired.  Fencing is installed around site.
June 2011 | All work on wetlands' expansion completed.
April – May 2011 | New seep discovered on wetlands site.  Working with consulting engineer and PA DEP, design plans are modified to accomodate additional discharge.
December 2010 | US EPA approves final ABCA.  Construction contract executed with Brdaric Excavating, the lowest qualified bidder.
November 2010 | Permits issued for project.  ABCA released for public review.  No comments are received.
July – August 2010 | Design activities completed.  EC advertises Request for Proposals for construction services and bids are received.
November 2009 – June 2010 | EC meets with representatives from several engineering consultants and the PA Association of Conservation Districts (PACD) regarding project design and preparation of the Analysis of Brownfield Cleanup Alternatives (ABCA).  PACD completes draft analysis, which is submitted to US EPA for review.  Comments are received and document is revised.
June 2009 | EC receives an additional $10,000 grant for the project from the Community Foundation for the Alleghenies.
May 2009 | EC awarded $200,000 USEPA Brownfields Cleanup award to further enlarge the Espy Run wetlands.  Expanding the facility will allow all of the AMD discharge to be treated.
February 2004 – June 2005 | Wilkes University sets up smaller wetland areas at seep, each planted with different plant species.  The study will evaluate water purification attributes of each plant.  Wilkes students also conduct experiments on the impact of AMD on various materials (e.g., plastic, rubber, wood).
December 2002 | Wilkes University completes final analysis of project and submits to OSM.
October 2001 | Area surrounding wetlands seeded.
August 2001 | Construction of expanded Espy Run wetlands substantially completed.
March – April 2001 | Wilkes University team completes field survey, data collection, and design of the wetlands' expansion.  Construction arrangements are finalized.
December 2000 | Working with Wilkes University, EC develops a scope of work for wetlands' expansion.
September 2000 | The Office of Surface Mining (OSM) awarded EC a $41,600 grant through the Appalachian Clean Streams Initiative to enlarge the Espy Run wetlands, and to support subsequent testing services.
July 1997 | Remedial earthwork performed on the Espy Run wetlands.
Prior to June 1997 | EC had been awarded two grants totalling $925,000 from the US EPA for two AMD projects:  the Espy Run seep project, which was completed in the fall of 1996; and the Dundee Road wetlands, to treat a discharge from the Askam Borehole.

FUNDING
$4,570 – WPCAMR, Quick Response Emergency Repair Funding
$200,000 – US EPA, Brownfields Cleanup
$10,000 – Community Foundation for the Alleghenies
$41,600 – US Office of Surface Mining, Appalachian Clean Streams Initiative
$63,000 – EC
$75,000 – In-Kind & Private Contributions

IMAGES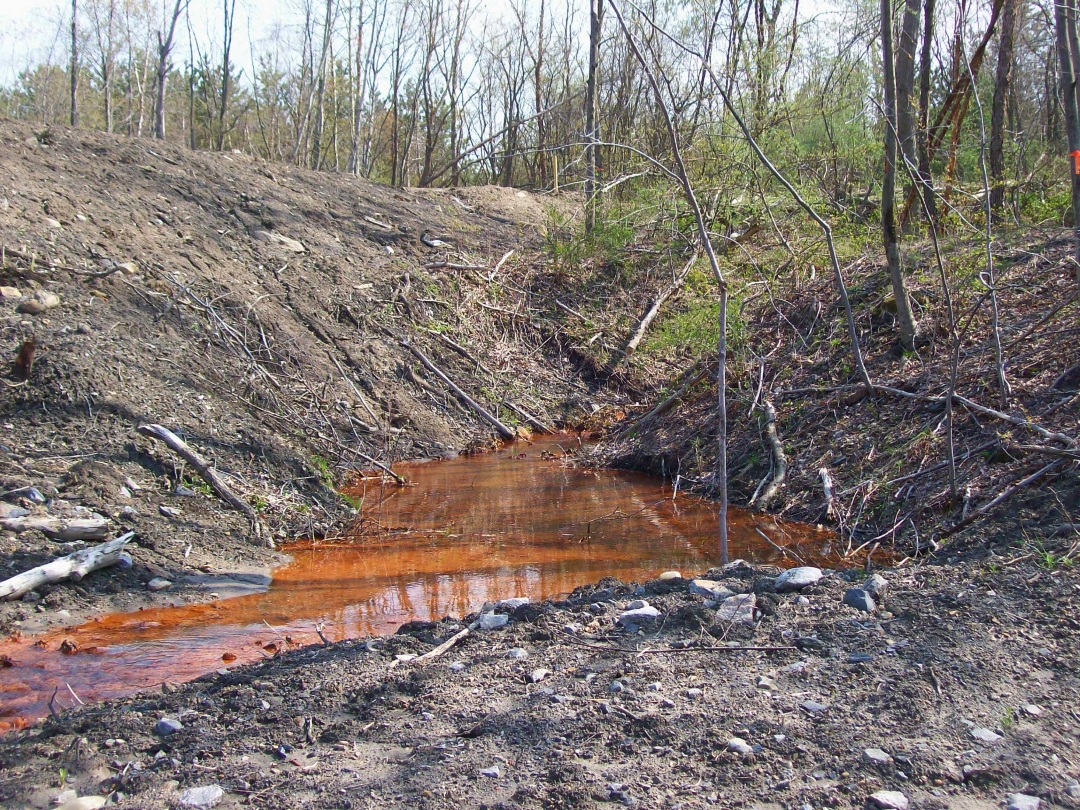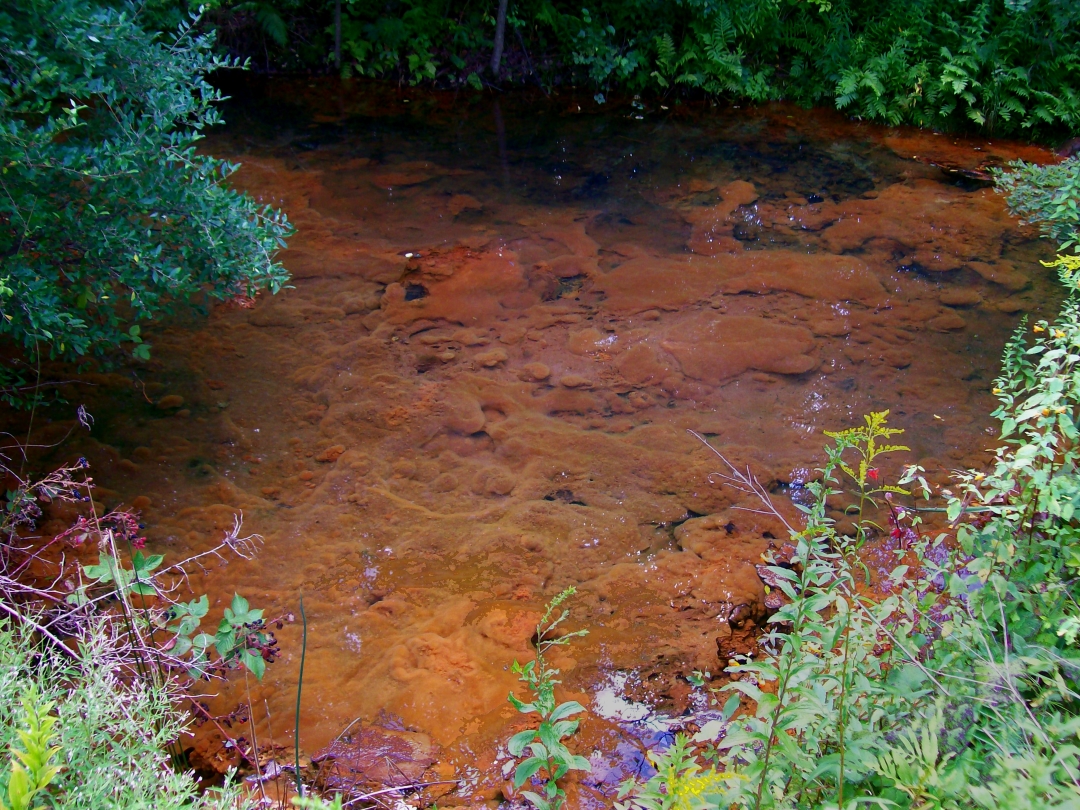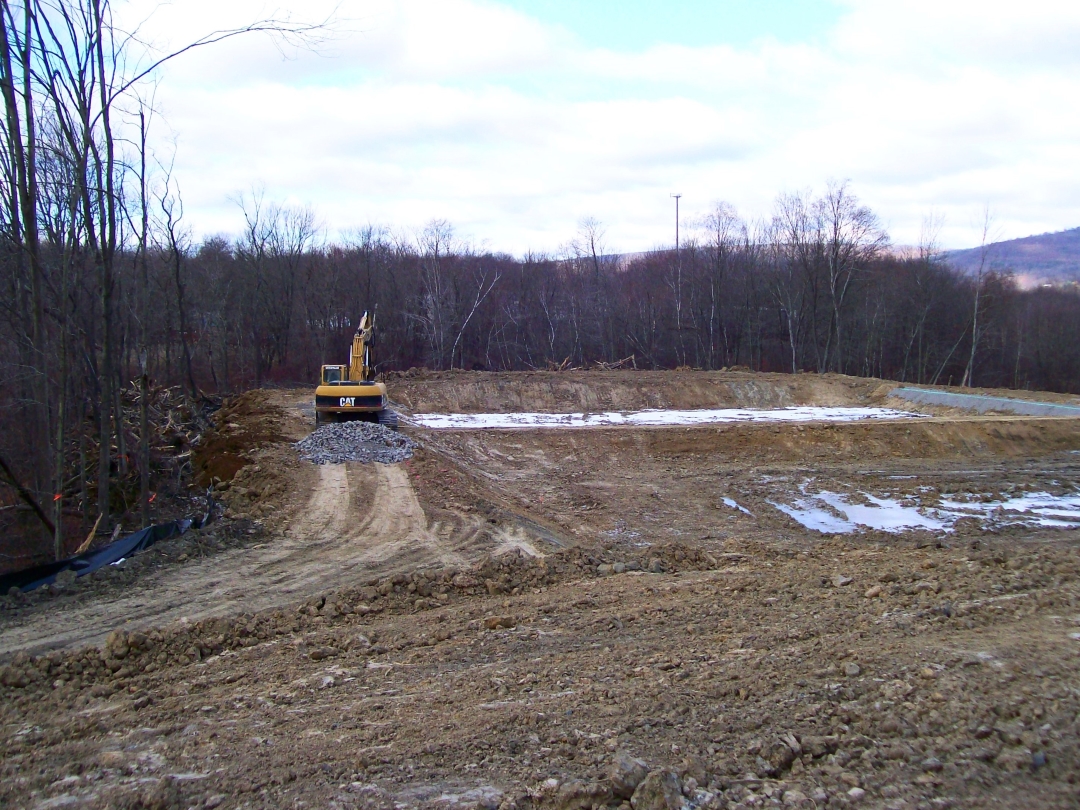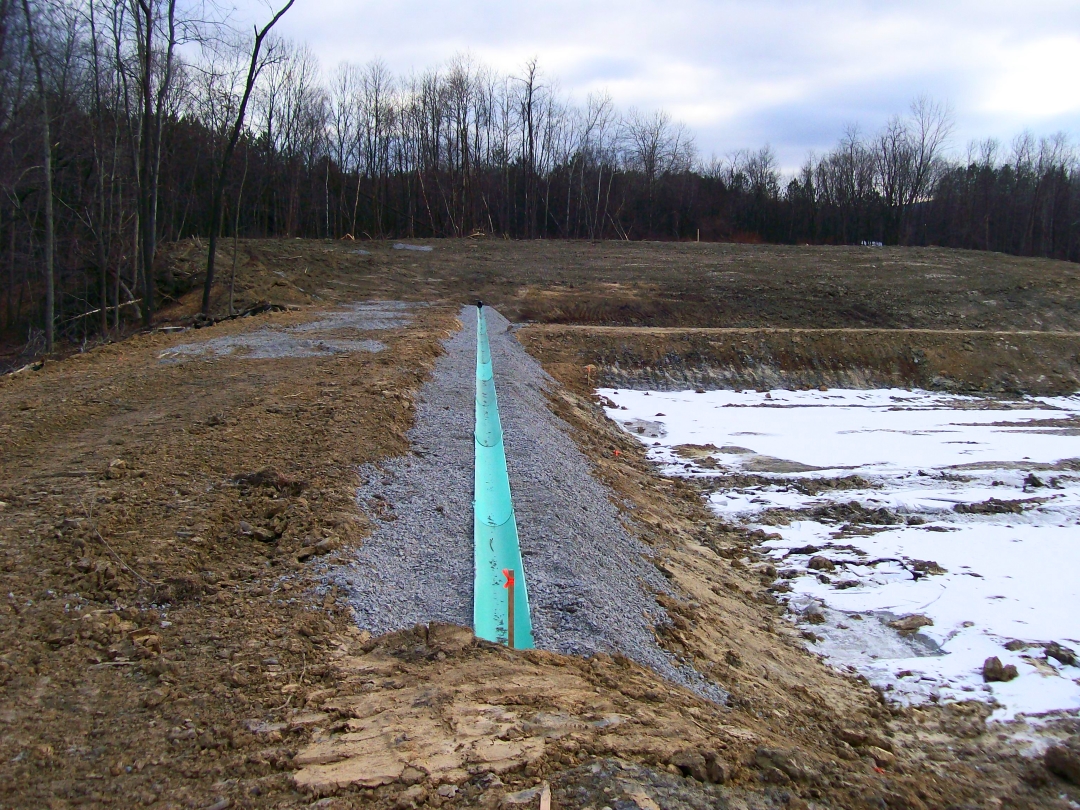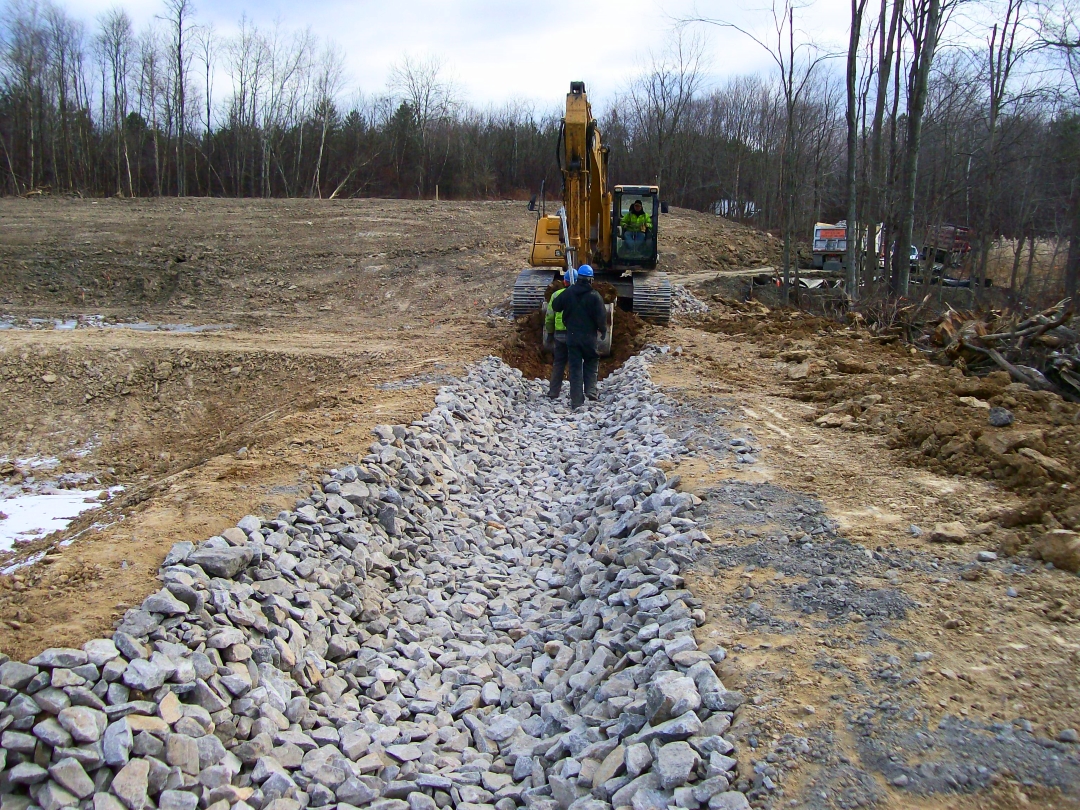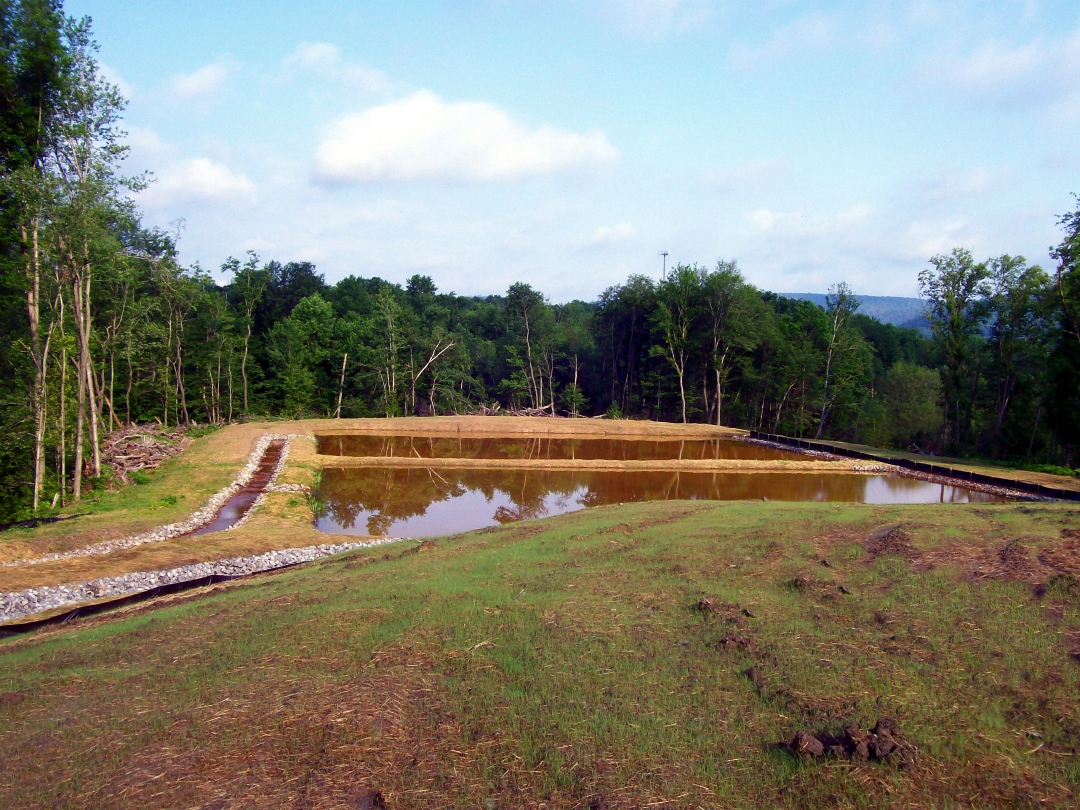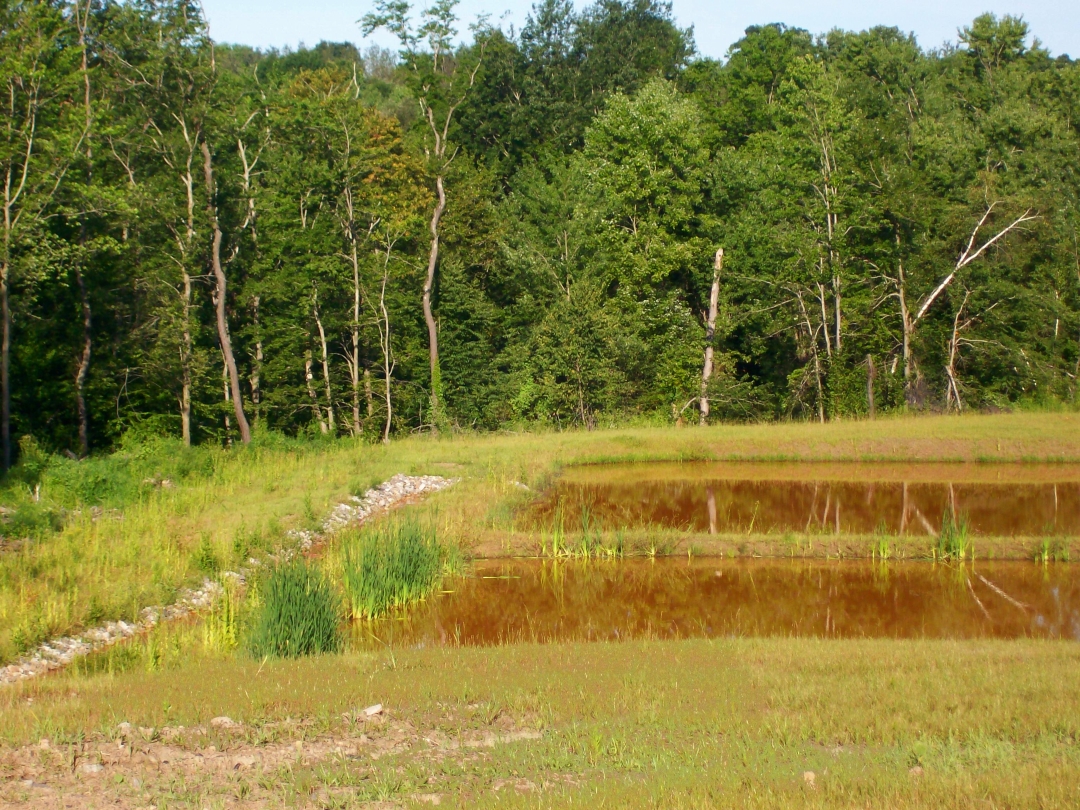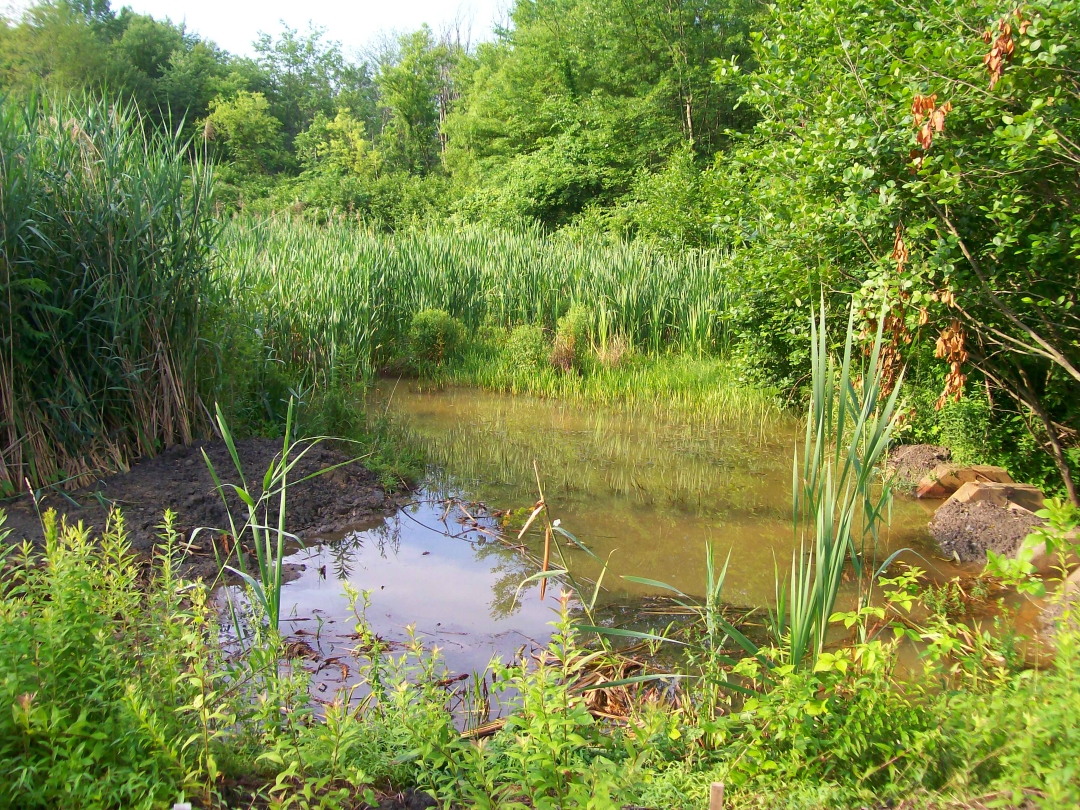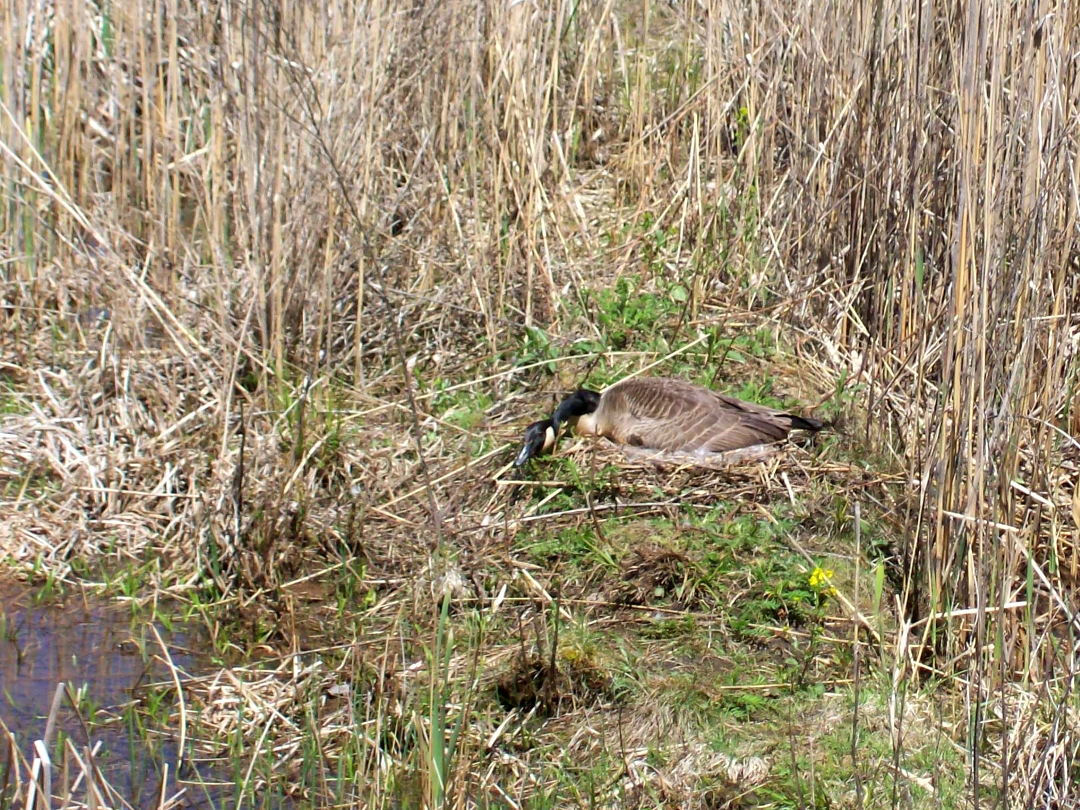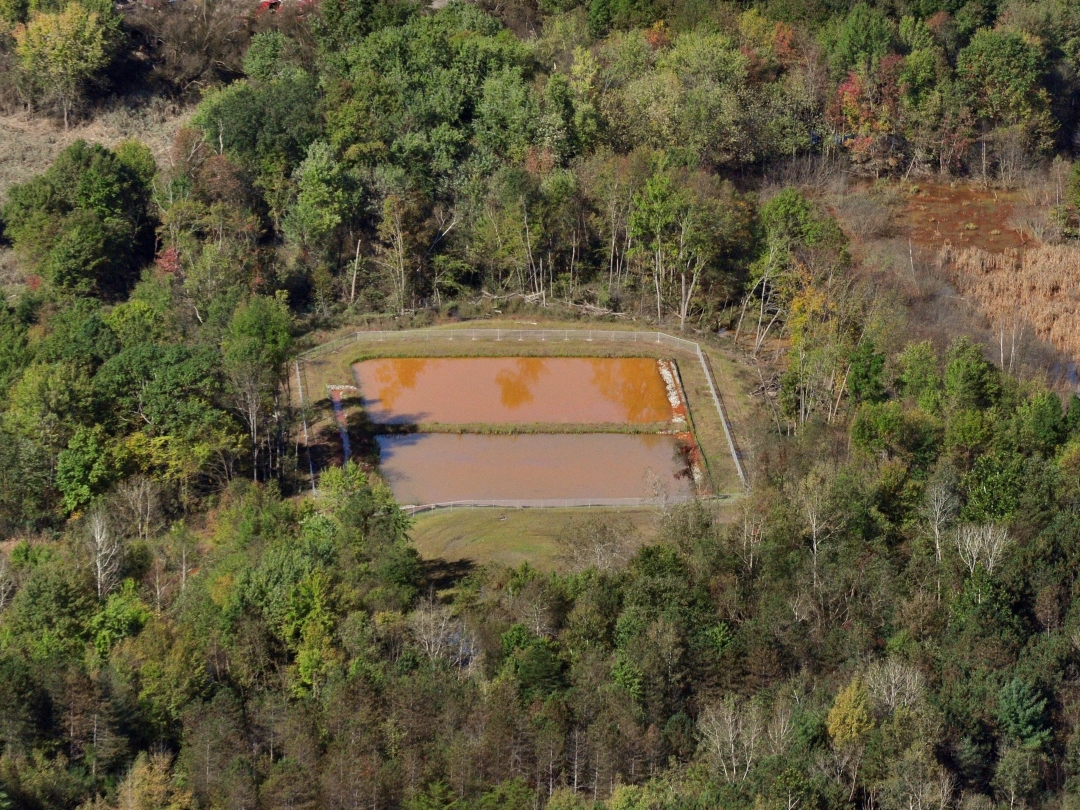 EW 1
View of Espy Run, prior to wetlands project.
EW 3
AMD buildup, which creates a thick sludge coating the streambed.
EW 4
After clearing and grubbing, work began on excavating/grading the pond structure.
EW 5
Laying of inlet structure, which will divert water from the Espy discharge into the wetland settling pond.
EW 6
Construction of outlet for water from the settling pond.
EW 7
Completed two-pond wetlands. The inlet is to the right, the outlet to the left.
EW 8
Grasses and cattails beginning to take root along the wetlands' banks.
EW 9
Outlet structure from the Espy Run wetlands, continuing to be populated by hydrophytic vegetation.
EW 10
The polishing cell at Espy - the final stage before water re-enters the stream. Here, cattails continue to trap/filter AMD sediment.
EW 11
The wetlands also restores habitat for wildlife, like the nesting Canada goose, pictured here.
EW 12
Aerial view of the treatment site. The polishing cell can be seen to the right.